This is it, folks. The time is upon us.
Election Day is hours away at this point.
It's time for our final 2020 Election prediction.
And yes, we've still got President Donald Trump winning in a landslide.
But for our final prediction, we came back to Earth a bit and reduced the difference just slightly from our previous picks.
If you'll remember, we had Trump getting 330 electoral votes. Then we had him at 338.
READ: 
Crazy is how some described our prognosticators. High was another.
It's neither. And our picks aren't as crazy or as high as believing there's an overwhelming majority of people who actually believe Joe Biden should be President.
C'mon, man!
Final Trump Landslide Election Victory Prediction: Trump 324, Biden 214
Don't worry, it's still a landslide.
We're dead serious about this pick. When all the votes are counted or thrown in a river or dumped in the woods or found in a dumpster, we believe Trump will soundly thump Biden, 324-214.
If you've seen our previous picks, you'll see that we flipped New Jersey back to the color blue, begrudgingly.
Yes, we still think there's a chance The Garden State goes for Trump. Actually, we think it's a decent chance. California – yes … California! – could flip, too. No joke.
Have you seen the massive Trump parades there?
This is Beverly Hills, California. Just a massive Trump parade. 3 full minutes of Trump supporters, of all races, showing their love (with tons more the camera didn't catch).

BEVERLY HILLS, CALIFORNIA

No ones ever seen anything like this. pic.twitter.com/67yQr8C1mV

— Kip Herriage (@KHerriage) October 25, 2020
Here's another from Beverly Hills. This isn't normal.
https://twitter.com/ChrisTigani/status/1322745237643661314
Some Californians say that conservatives are less afraid of coming out from the shadows now but it may not lead to a Trump win. Our map reflects that, but remember who said it might happen.
So, let's look at how we get Trump to 324 electoral votes:
Rust Belt Sweep
With the exception of Illinois, Trump's going to sweep through the Midwest.
Wisconsin, Ohio, Indiana, West Virginia … those are locks. Did anyone ever believe Iowa was a toss-up as some polls suggested? Neither did we.
But Trump picks up landslide points by taking Minnesota. Book it! And Michigan is definitely in for Trump again. He's making that state the final rally spot on the campaign trail in 2020 just like he did in 2016.
Pennsylvania Going for Trump
Yes, there are Biden supporters in Pennsylvania. But no, there aren't as many as the mainstream and social media outlets would lead you to believe. That many people just don't exist.
As for Trump supporters though, on Saturday, the President held 4 rallies in the Keystone State, including this whopper in Butler County. Look at all those people:
Butler County, PA.

I've never seen anything like it — just a sea of people. pic.twitter.com/VYImRB710v

— #ThePersistence (@ScottPresler) November 1, 2020
Texas Going Red, Of Course. Florida, Too
Just like in 2016, there was a time not too long ago that the Democrats pretended to think they'd win Texas. That's not happening on Tuesday. You can put it and its 38 juicy electoral votes in the Trump column.
Same can be said for sunny Florida. You've seen the Biden campaign hosting its weird car rallies there a lot recently but no one's showing up (except Trump supporters).
Nevada, New Hampshire Moved to Blue
We've had each of Nevada and New Hampshire in the RED column in previous predictions. Again, we're just trying to stay humble here, so we put them in the BLUE column. But don't be surprised if our previous picks were right on these states.
Take a look at our map below (created at 270towin.com) and tell us we're nuts. We can take it.
But we've got a feeling this may be exactly what you see when the votes are tallied after Election Night.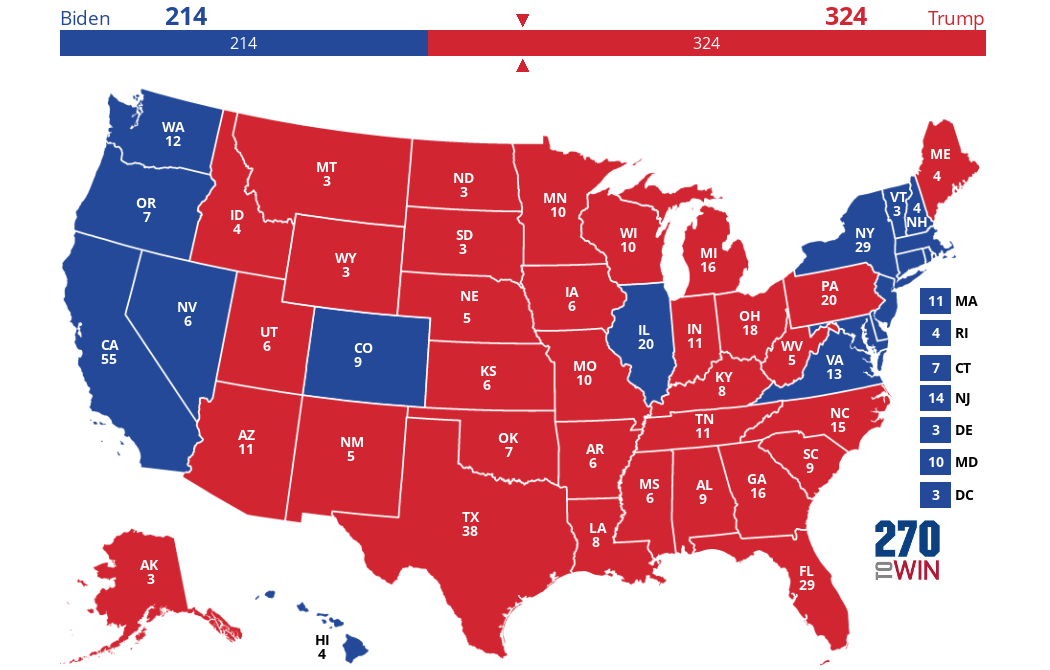 Click the map to create your own at
270toWin.com
ALSO READ:
Subscribe to Coal Region Canary
Get email updates from Coal Region Canary by becoming a subscriber today. Just enter your email address below to get started!
News Tips?
Let us know of news happening in your area. Use our
NEWS TIPS ENTRY FORM