A week ago, we released our first Electoral Map Prediction on the 2020 Presidential race.
It should come as no surprise to our regular readers that we had Trump cruising to an easy victory on Election Day.
But man, did we screw up that first map and readers let us know about it.
"HOW COULD YOU HAVE LOUISIANA BLUE?" they screamed.
Or, "WTF ARE YOUS GUYS SMOKING UP THERE?"
A lot of that stuff.
Oddly, no one said anything about us flipping New Jersey from BLUE to RED.
And apparently, everyone missed the "totally unscientific" nature to our prediction. We said we got our information and basis for the picks from the same place the professional pollsters get theirs … thin air.
So, let's go for Round 2.
Trump Widens Landslide Win in Canary's Latest Electoral Prediction – Electoral Map Prediction #2
This is how we're feeling on Oct. 18, just 16 days from Election Day.
So, we've made a few changes to our map. Some smart people got in our ear (as did the loud ones) and we've updated our prediction.
First, we've moved Minnesota back to Biden. And yes, we've flipped Louisiana to Trump.
We're sticking with Trump taking New Jersey, too.
Now for the Trump gains? We've got a pair.
New Hampshire is now in Trump's column. And you can add Nevada to that pile, too.
So, that brings our Electoral Prediction for Oct. 18 to:
Here's how it looks on a map generated by 270towin.com.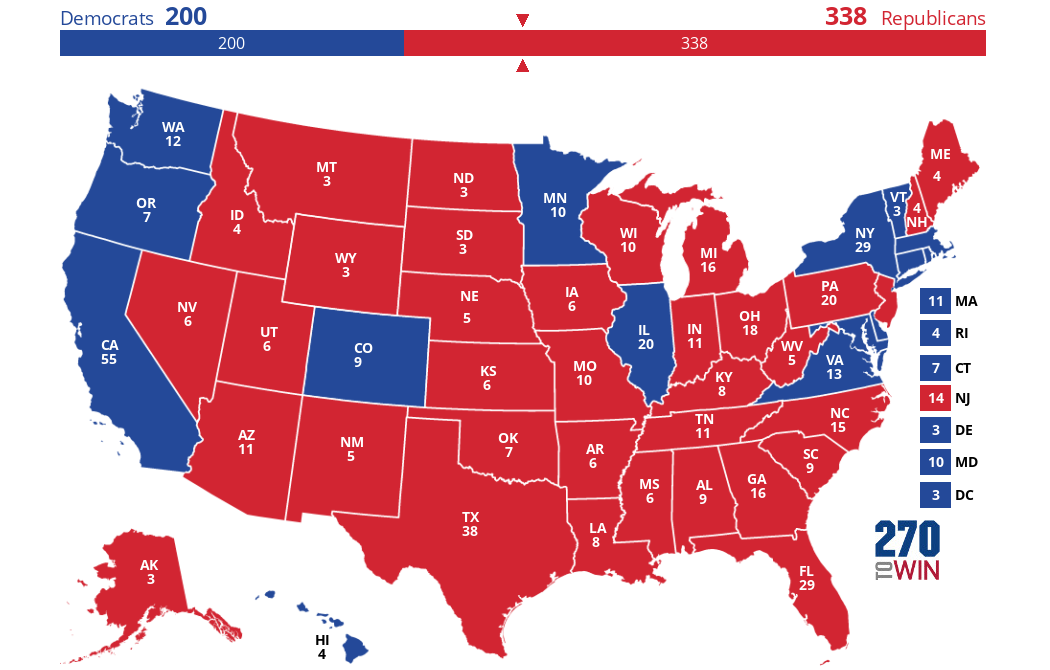 Click the map to create your own at
270toWin.com
Methodology
Gut feelings. No biased polling is used to create The Canary's Electoral Prediction map.
 ALSO READ:
Subscribe to Coal Region Canary
Get email updates from Coal Region Canary by becoming a subscriber today. Just enter your email address below to get started!
News Tips?
Let us know of news happening in your area. Use our
NEWS TIPS ENTRY FORM